Pike13 has partnered with Zipwhip to offer a business texting service to Pike13 customers. Zipwhip allows staff to text from a business landline or toll-free number and track all texting activity within the platform.
With Zipwhip you can:
Enable two-way SMS texting

Send a single message to multiple contacts at a time

Create auto-replies

Create reusable text message templates

Schedule text messages in advance

Send unlimited texts to unlimited contacts
Zipwhip increases the likelihood of success with reaching clients. In a study of response behavior for consumers, a whopping 74% said they would reply to a text from a business within an hour, while only 41 percent said they would do the same via email.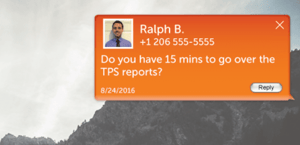 The cloud-based desktop app and web app allow you to easily view business text messages. The desktop app notifies you of incoming text messages even if you're working in another program or not logged into the web app.
You can also download the Zipwhip mobile app. This will allow you to separate business and personal text messages and text from smartphone or tablet when you're on the go.
Efficient & Effective Communication
Save time and increase productivity by allowing your computer to be the hub for all text message notifications. Speed up your daily workflow by reducing call volume and engaging customers faster.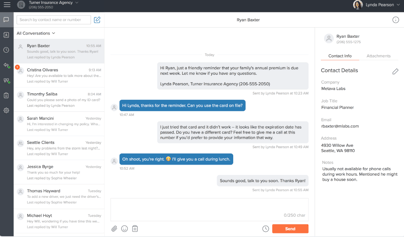 We pride ourselves on our client connection. In the age where a lot of communications happen via text messages, Zipwhip has really helped.

Jordan Modine | Director of Portland Operations, Barre 3
Make your work more efficient by merging Zipwhip's business texting features into the products and tools you use every day, including SalesForce.
Integration with Pike13
Contact information will automatically pull from Pike13 into Zipwhip so you can easily search and text any contacts in your Pike13 database from the Zipwhip console.
Also, Zipwhip's chrome extension allows you to send a text right from within Pike13 by clicking the Z icon that appears next to any phone number stored on file.