Back in April we announced a new partnership between Pike13 and Intelivideo to support on-demand video content. Intelivideo allows you to launch a video channel for your brand, grow your business beyond the four walls of your facility and create meaningful digital content that meets your clients where they are, when they want it.
The partnership agreement grants Pike13 customers a significant ($500+) discount on Intelivideo pricing. And now with a fully built-out integration, the deal is even sweeter.
What's Included in the Integration
The new integration can directly link Pike13 passes and plans with your on-demand content hosted on Intelivideo. At your discretion, passes and plans in Pike13 can be set up to allow access to your on demand videos, saving you tons of admin time. You also won't have to worry about making constant manual updates to your client records.
How Do You Get The Integration?
The Intelivideo integration is compatible with any Pike13 plan, and there are no changes needed within your Pike13 site in order for the integration to work. There are, however, two things you will have to get: a Stripe account and a separate subscription with Intelivideo.
Stripe Account
Someone browsing your on-demand video offerings will need the ability to purchase access to your library if they find you directly through Intelivideo (i.e. they are not already a client of yours and do not have a plan or pass). In order to make this possible, you will need to have a Stripe account to process those payments. After all, this is a solution to move outside your physical address; let people everywhere experience your staff, brand and what you have to offer!
Intelivideo Subscription
You'll need to sign up for Intelivideo in order to begin using their services. The IV Snap platform is geared towards small studios, and additional support is offered for enterprise businesses.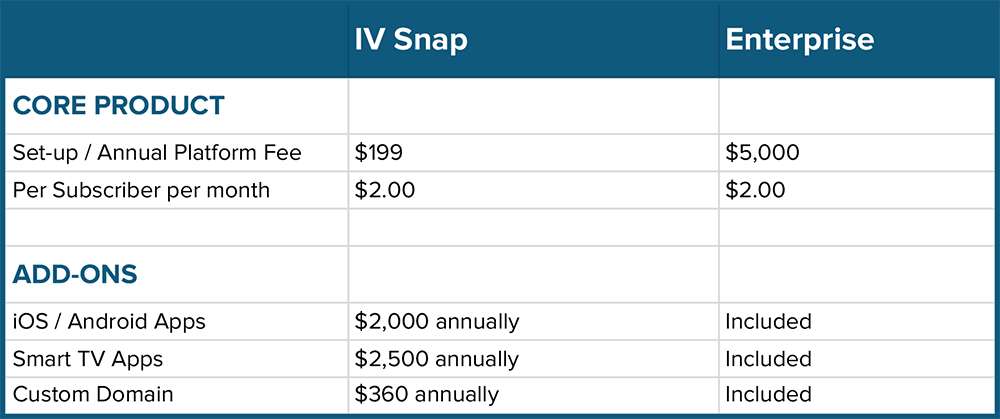 All billing is done through intelivideo–there will be no change to your Pike13 monthly bill. Once you sign up, onboarding and support are handled by Intelivideo.
The Value of On-Demand Content
COVID-19 forced businesses around the world to move classes online, many for the first time. However, owners have come to realize that there is great revenue potential in virtual services long after the coronavirus fades away.
On-demand video is a stable investment for your business if you take the time to really do it right. Here's why:
It's an extra stream of revenue that doesn't rely on the availability of staff and does not require much maintenance after the initial production efforts.


The accessibility of on-demand removes a huge barrier for clients who have unpredictable schedules. They can pay to access your content whenever it's convenient for them.


On-demand classes are a low-pressure way to give potential clients a taste of what your studio is like. If they enjoy the online class, they're very likely to sign up for something in-studio.
The key to on-demand video success (beyond your excellent classes and instructors) is high-quality content that keeps clients coming back for more. That's where a platform like Intelivideo can really help. In addition to making administration and organization of your virtual services easier, Intelivideo's slick platform gives a highly professional feel to your content.
Intelivideo sets you up for long-term success in maintaining on-demand services. Learn more and get started today!