What's the first thing you do when you log into your Pike13? As an Account Manager, I often tell owners to get in the habit of checking their Insights Dashboard each day for a quick snapshot of the health of their business. We strive to help our customers run their businesses smoothly and Insights is a key tool in the Pike13 arsenal.
If you have the Pike13 Professional Edition, the Insights Dashboard is the first thing you see when you click on Reporting. The dashboard was developed in collaboration with multiple Pike13 businesses to try and provide quick answers to frequently asked reporting questions. Finding information is easy, as each bolded category and quick-link ties to a pre-made report providing useful and critical information about the health of your business.
How does it work?
It is useful to think of the Insights page as a quick overview of action items and performance indicators for your business. By using the color coded tiles, you know what needs your attention first (red means bad and green means good!). By making a habit of checking out those red tiles each time you log on, and addressing any issues you find there, you can be confident that your business is running well from a Pike13 perspective.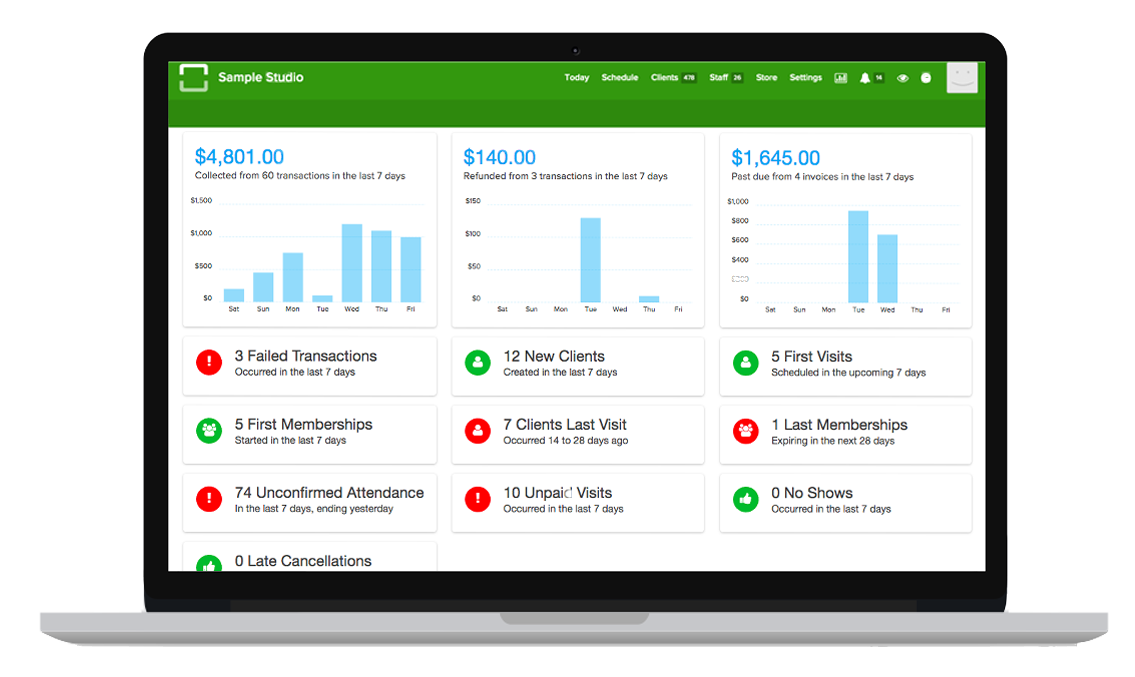 The tiles highlight revenue, failed transactions, expiring memberships, unconfirmed attendance, etc., all of which are important aspects of operating your business. By clicking on a tile, you'll be directed to a pre-made report with the data that comprises the information you see on the Insights Dashboard.
Customized Reports
While reports on the dashboard are hard-coded, and therefore not able to be changed, we recognize that they may not be exactly the way you want to see the information for your individual business. Pike13's powerful reporting system allows you to make adjustments to any report, slicing and dicing the data to your specifications, and then save the specialized reports to your favorites menu. Once you've saved a report, you won't need to do the research again and the information will be at your fingertips!
You can find a more in-depth tutorial on Insights in the Pike13 Help Center. Additionally, your account manager can provide you with information on how to best utilize this useful tool in your daily business processes.
Insights is included in all Professional Edition subscriptions. If you don't have an Insights Dashboard, you may want to consider upgrading to Pro in order to benefit from the full Pike13 feature set. Please contact your Account Manager to gain access to this valuable tool. If you don't know your Account Manager, feel free to contact our support team at help@pike13.com and they will connect you!