Pike13 allows you to view ClassPass enrollment activity in your Pike13 reporting dashboard. You will easily be able to identify amount of classes enrolled by ClassPass members.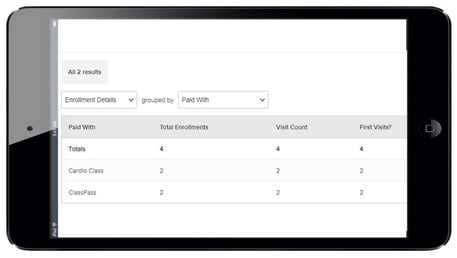 Added Discounts
ClassPass's ProPerks Program offers unique perks, benefits and discounts exclusive to ClassPass studio customers. Connect with a curated list of vendors to save on re-stocking your studio, investing in new equipment, and more.
ClassPass brings in new clients that I wouldn't otherwise reach, to fill spots in class that would otherwise go empty, without costing me anything.
Fitness is a way of life for many and ClassPass connects fitness-goers with an array of class options around the world. It's an opportunity for your studio to be plugged into a network of unrealized revenue potential. Take advantage of Pike13's integration with ClassPass to increase exposure and revenue with ClassPass today!
Both Business and Pro users have access to ClassPass integration with Pike13.