Have you considered investing in a mobile app for your business? Pike13 now offers a scheduling client app as an add-on to the core software for customers in the United States and Canada. Offer your clients a superior mobile experience t by allowing easy access to booking and payments.
The app is available on both iOS and Android at a flat rate of $20/month charged to your business, regardless of how many clients you have. The app is absolutely free of charge for your clients.
What Does The Client App Do?
The Pike13 Client App makes interacting with your business easy for existing clients. Clients can easily and quickly book classes and appointments and purchase new plans and passes.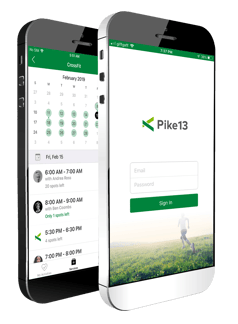 In addition, the Client App supports push notifications so that you can remind clients of upcoming visits or schedule changes.
The app automatically pushes the data to your Pike13 site so you are always connected to the most up-to-date information about your business.


Want More Brand Customization?
Pike13 also offers a customized Branded App. The Branded App has all the functionality of the Client App but is custom branded to your business with your name, logo and colors.
Upgrade to give your business a unique and powerful presence in the app stores and on your clients' phones.