A few weeks ago Pike13 unveiled the new Client App. Completely free for you and your clients–the Client App is an easy way for your clients to browse, book, and pay for classes and appointments.
Pike13 also offers a Branded App, so you might be wondering what the difference is between the two. Here's the breakdown:
The Functionality
Let's start with answering the biggest question: there is no difference in functionality! The two apps work in exactly the same way, with exactly the same features. That means no matter which app you have for your business, your clients will be able to browse, book, and pay for classes, plans and passes.
Both apps are compatible with iOS and Android.
The Look and Feel
Branding is the biggest difference between the two apps. The Client App is branded to Pike13, so your clients will see Pike13's logo and colors throughout the entire app including the app name and home screen icon.
By contrast, the Branded App is yours. It's branded with your business logo and colors, and clients search your name in the app stores. It creates a seamless booking experience for your clients, and keeps your business just a tap away at all times.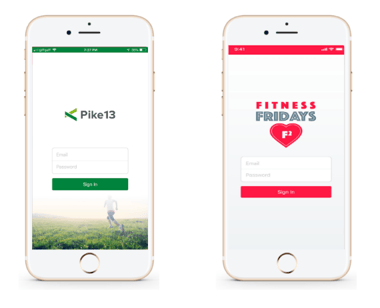 The Price
Both apps are free for your clients no matter what. What your business pays depends on the app experience you choose. The Client App is free for your Pike13 business. The Branded app is offered at $129/month plus a setup fee.
The Setup
The Client App is already fully built, which means it's ready to use now. Just contact your account manager to activate the app for your business and your clients can start downloading and using it immediately.
The Branded App is custom built for your business by Pike13 developers, so the price is a bit higher and the setup time is a bit longer. Typically, your branded app will go live in the app stores within two weeks. You'll also need to set up your own Apple Developers account for your business, which a Pike13 rep can help you with.
Contact your account manager to learn more about Pike13's mobile app options and how they can benefit your business and your clients.