Product Updates
Major Pike13 Update Improves Android Accessibility and Paves Way for Client App Enhancements
New Pike13 update improves Client App functionality for Android users and paves the way for adding dependent management functionality.
---
We're pleased to announce the next phase of our client app enhancements. Rolling out in the app stores next week, this new update makes the Pike13 Client App fully compatible with all Android devices in the United States and Canada. The user experience is now consistent across all operating systems, creating less client confusion.


New Android Functionality
iOS users won't notice any change in the app (for now!), but users on Android now have access to features that were previously blocked.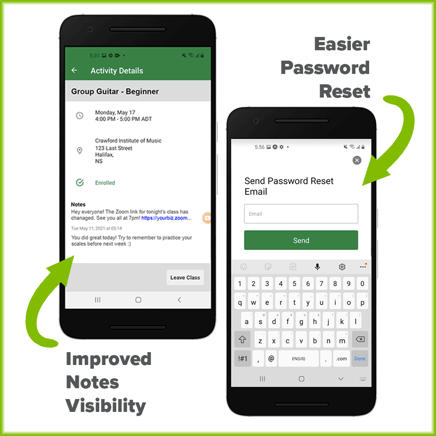 SHOWS PUBLIC NOTES
Your clients can now see Public Notes on their Android devices. This is a useful feature for documenting important information and sharing it with an individual client or a class roster.
PASSWORD RESETS
Clients can now reset their Pike13 passwords directly from their Android device. Previously they were only able to do so from the website. This streamlined process makes the process more convenient for your clients.
As excited as we are to be able to offer these app features to Android users, we're even more excited for what comes next. This was the last stage of a months-long development project that sets the foundation for some major functionality improvements to the Client App.


Dependent Management Coming to Client and Branded Apps
Dependent account support has been one of the most requested features since the App launched, and it's finally coming. Clients will soon be able to fully manage multiple dependents within the Client and Branded Apps using a guardian account.
Enroll dependents in classes, courses, and appointments
Purchase plans and passes for dependents
View and manage dependent schedules
Switch between dependent profiles
The Apps will also be getting a bit of a makeover in this next update. Our UX Designer has been running user tests and putting together some new designs that will make the Apps even easier to use. We can't wait to show you.
Look for the next updates later this year.