We've made a few updates to our Zapier integration to make connecting virtual classroom links to your schedule much easier. Zaps are now available to automate the creation and posting of live stream links to your virtual event.
Our pre-built zap templates offer easy integrations with some of the most popular virtual meeting platforms like Zoom and Google Hangouts/Meet.
Here are some examples of what you can do:
Create a new Zoom meeting for each event and post the link as a roster note
Create a new Google Hangout/Meet for each event and post the link as a roster note
Reuse a Live Steam Link for multiple events and post the link as a roster note
Don't use Zoom or Google? No problem. You can keep your preferred streaming platform and customize your own automated solution using our Event Occurrence Upcoming trigger and Post Roster Note action.
Increased Flexibility to Fit Your Business Model
Zapier provides flexibility and control to create customized filters and rules. These support all different types of rule combinations and configurations. Here are a few examples:
Create a new Zoom for every class
Create a new Zoom for certain classes
Re-use the same link for different classes
Re-use an instructor's personal Zoom link for all of their appointments
Pre-Built Zaps Make Setup Easy
To make things easier for you, we've provided some pre-built zaps for two of the more popular streaming platforms: Zoom and Google Hangouts. All you need to do is find the zap templates for Pike13 and Zoom or Google, and follow the steps provided.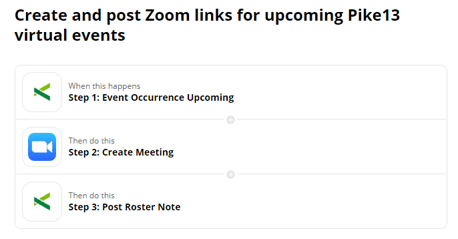 It's that easy! Visit the Pike13 Help Center for more details and a walkthrough of how to set up the zaps.
How Get Started
The Pike13 Zapier App is available to Pike13 Pro Plan customers. A separate subscription with Zapier is required.
Once you're subscribed, find the Pike13 Zapier App to get started.