In the highly competitive fitness industry, both a strong marketing strategy and marketing plan are absolutely crucial. Your online marketing strategy is the "why" behind your digital marketing efforts and should describe how your marketing goals will help you achieve business goals. Your marketing plan is the execution roadmap and it should lay out your marketing campaigns on a tactical level.
For example:
Business goal: Increase memberships by 10% in Q1
Marketing strategy: Boost online presence to attract new members
Marketing plan: Launch Facebook ad campaign with special offer (or discount) for new member sign ups
For the purposes of this blog, let's assume your marketing strategy includes increasing overall awareness of your gym. Below are five tactics you might include in your online marketing plan to achieve that:
Build a strong website (and make sure it's mobile-friendly)
First things first. It's 2020, so by now you probably know that your website effects how people perceive the quality and credibility of your gym, and how fundamental it is to your marketing strategy. It's the center of your online presence, and the home base that connects everything. It's where you can promote your gym, display information about your fitness centers and services, provide resources, and demonstrate expertise in your industry.
It's also where you can list your contact and location information, provide contact forms, and link your social media accounts. A website gives you identity and authority, and it helps establish trust with potential customers.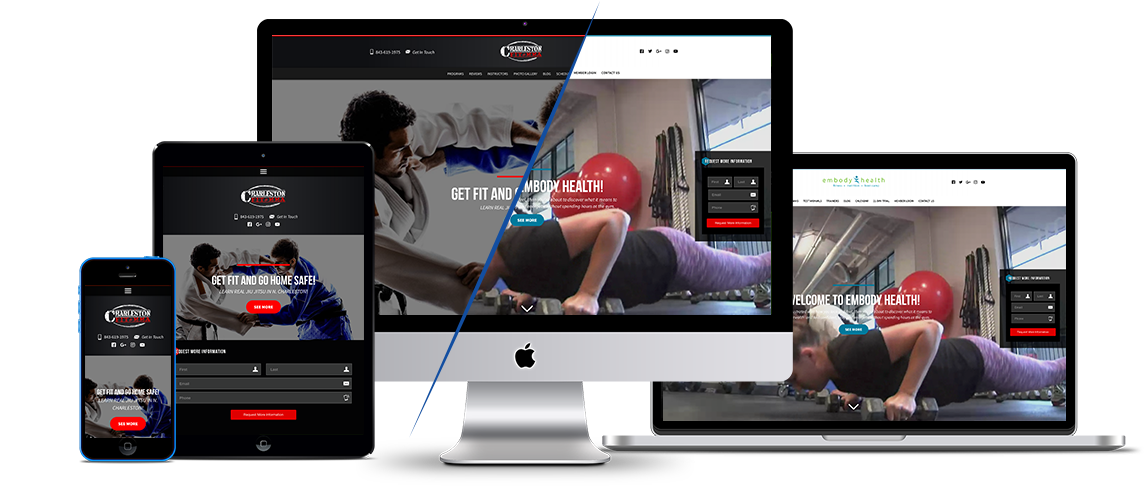 When you build your website, it's important to keep your target markets in mind. Consider what tone you should use to best appeal to them, as well as what type of imagery and layout. You'll also want to ensure it's well-designed, easy to navigate, and mobile-friendly.
When it comes to your website, here are some statistics to keep in mind:
PRO-TIP: Pike13 partners with 97 Display to offer our customers an effective and hands-off website solution. The above images are examples of their work. Learn more about 97 Display >>
Invest time in SEO
Google is the most visited website in the world, and holds just over 92% of the global market share. That said, you want to make sure your business shows up in relevant searches. Enter the role of Search Engine Optimization (SEO). For your website to show up on a Google search, your site's data must be accurate and filled with keywords your potential customers would use to find a business like yours. They'll likely use search terms like "gyms near me" or "fitness centers in [insert city]".
You'll want to develop a list of keywords and incorporate those words throughout your site (on the homepage, About page, Contact page, etc.), but only where they're relevant and make sense.
It's important to keep in mind that SEO is a slow and steady process, especially since Google changes its algorithms frequently. Because of this, it's also important to get up-and-running on Google My Business and ask for Google reviews from loyal customers.
Complete your Google My Business page
Google My Business (GMB) is a free tool business owners can use to manage their online presence across the Google suite of websites. It allows you to create, verify and edit a business listing in Google.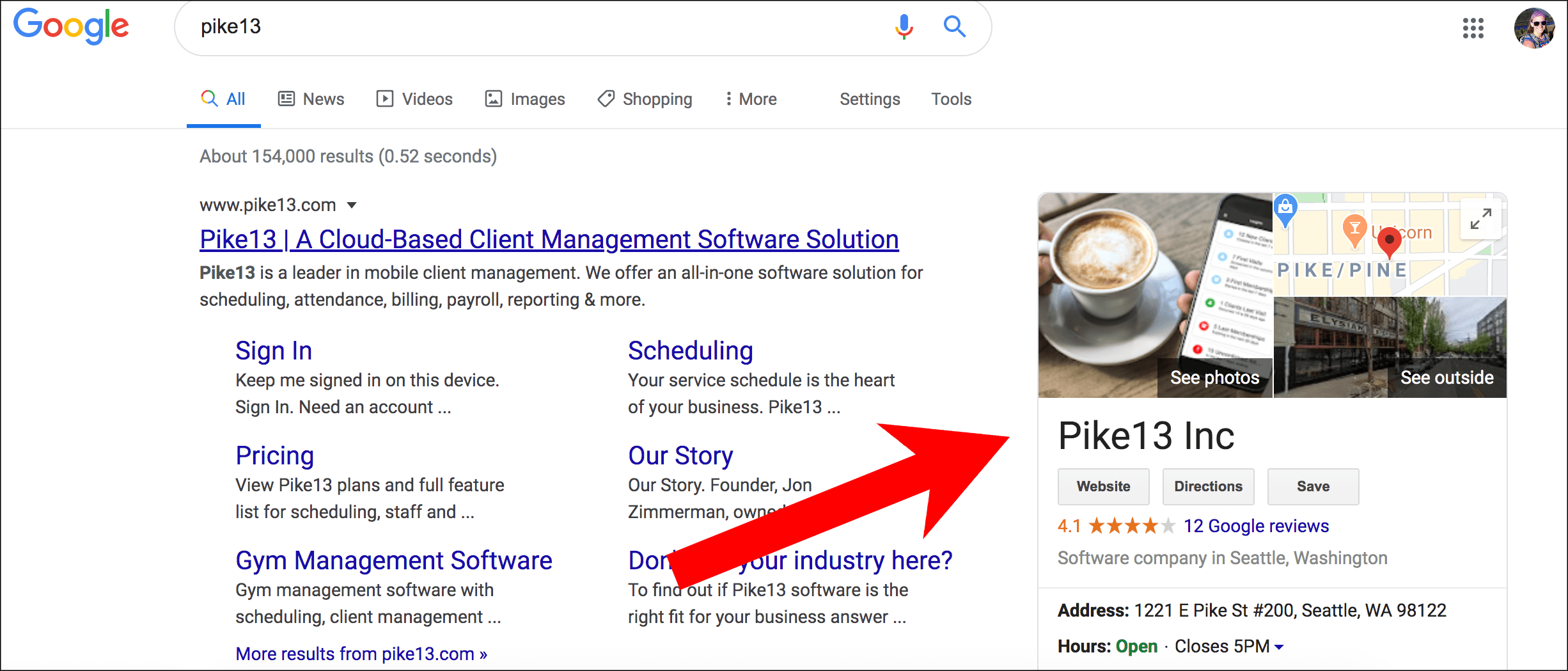 A complete GMB page is essential for local SEO because it enables your business listing to appear in local searches, allows people to find your contact and location information easily, provides potential visitors with a picture of your facility and lets users review your business.
Utilize social media
Social media is one of the most valuable tools to incorporate into your marketing campaigns, and it's free! Facebook is a great place to start because it's the most used social platform with nearly 2.45 billion monthly active users. You should consider developing a content calendar for your Facebook business page so you can organize your efforts, plan out future posts, create consistency and ensure all of your marketing efforts are focused on the same goal. You'll also want to focus on creating engaging content to increase the likelihood that it will be shared, thus increasing your business' overall visibility.
Another perk of Facebook business pages is that people can leave reviews. Did you know 97% of consumers now read online reviews when researching products or services in their local area? Having positive reviews from loyal customers on your business page is a great way to promote your gym, build trust, increase visibility, and attract potential customers.
Maximize visibility with paid ads
Given the popularity of Facebook, you may consider using it to run a paid ad if you have a little extra cash lying around. Facebook ads are customizable based on what you're trying to accomplish (which Facebook calls "objectives"). You can create ads intended to increase page likes, website clicks, post engagement, or something else entirely.
Facebook has great targeting capabilities that can dig deeper than any other platform, and you can layer them and combine them to ensure your message is getting to the right target markets. Also, because Facebook also offers great analytics, you'll be able to gauge ads' effectiveness and tweak your future campaigns accordingly to maximize your marketing spend.
There are a ton of options when it comes to marketing ideas and the various ways you can promote your gym or fitness studio. To get things started, first define your marketing strategy and then come up with an actionable marketing plan for how you plan to succeed. Remember to repeat what works, and learn from what doesn't.