Welcome to a new section of the Pike13 blog: Feature refreshers! These posts will offer pro tips to remind you how to get the most out of your Pike13.
Unpaid invoices hurt your business' bottom line. Thankfully, Pike13 provides easy ways to locate unpaid invoices and follow up with your clients.
Start by Identifying Unpaid Invoices
There are three ways to identify unpaid invoices using Pike13:
1. On the event roster
At the top of every event roster, Pike13 lists all of the clients that have unpaid invoices. Clicking on the notification will filter the roster to only show those clients.

Along with listing them on an event's roster, we also list them on the client's profile. Clicking on those notices will take you directly to the invoice.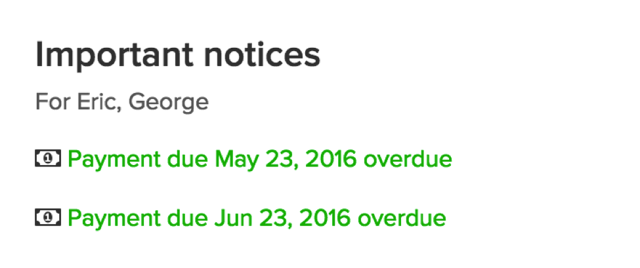 2. In-site notifications
Your Pike13 site provides you with several notifications to help you stay on top of payments. We recommend enabling the following two notifications:
A client's payment fails or is overdue: This will alert you every time a client's payment doesn't go through or the invoice goes past it's end date.
A client's credit card expires soon: This will help you prevent one of the most common causes of failures. Many clients simply forget to update their expiring credit card.
Both of those will provide you with a quick link to the invoice that triggered it. If you need to help setting up your notifications, check out this help topic: Setting staff and owner notification preferences.
3. New Reporting
This is an exciting new feature of Pike13. New Reporting provides you with a comprehensive list of all of unpaid invoices (among many other things!).
Customers using Pike13 Pro have access to Insights, which shows you this information and more. Pro users can find it in New Reporting. Here's a quick peek for those curious, and you can learn more about it here.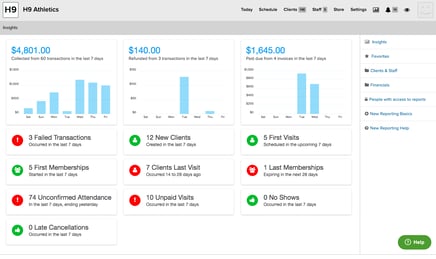 To access this report, click on the reporting icon and choose 'New Reporting'. From there, click on Financials. Now you have two options:
Use the provided quick views:
Underneath Invoices, you will see Quick Views. Click on Current Invoices Past Due and Pike13 will take you straight to the list of unpaid invoices.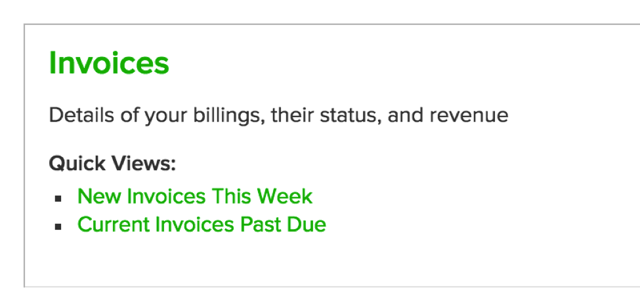 Create and favorite a custom report:
For creating your own reports, check out this help topic: Getting answers in New Reporting.
If you want any additional assistance setting up reports or notifications, reach out to the Customer Care team at help@frontdeskhq.com.
Once You Identify Them, Follow Up With Your Clients
Now that you know how to locate unpaid invoices, how do you go about following up with your clients? This is more about your process than about your software functionality.
The first thing you'll want to do is check on any invoice related notifications or reports on a daily basis. This is to ensure two things: First is to make sure that no invoices slip through the cracks. There's nothing worse than leaving money on the table. The second is to prevent clients from further using your services when they haven't paid.
For any transactions that failed, try re-running them again before reaching out to your client. Sometimes the client's card is declined because funds weren't available yet. If it goes through, it saves you from having to follow up with them.
If it fails again, you can use Pike13's notes feature to send them a message about their failed payment. Your clients can update their own payment information by following this help topic: Saving a client's payment info to their profile.
Once they update their information, you or the client can try running the new card.


The other approach you can take is to see if the client has any upcoming events. If they do, you can follow up with them before or after their event is over.


If you have staff members, they should know how to follow up with clients before or after their event. Here's a quick script that you and your staff members can use.
"Hey <client name>,
Looks like there was a problem charging your card. Let's take 2 minutes to get this taken care of."
Once you have their attention, all you'll need to do is update their payment method on file and close out the invoice. Up-to-date, smooth billing processes keep both your client and your business happy.
Have other questions about your Pike13 Software? Contact the Customer Care team at help@frontdeskhq.com.