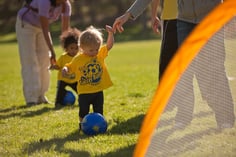 Julie Colangelo was playing soccer at the local arena when she heard about a new program for kids. She enrolled her two-year-old, but found the ages of the kids in the program to be too ranged and not appropriate for a toddler. Julie asked for a refund, and to her surprise was offered control of the program instead.
Under Julie's leadership, Colorado Soccer Buddies has grown from 150 kids to 900-1,300 per session. With 80-90% of registrations coming in online, Julie knew she would need software to help manage everything.
After a brief, frustrating period of using MindBody, Julie found Pike13. Read the full case study to see why she switched and why she's never looked back.