Idea World Fitness Expo is one of the largest of its kind in the United States, hosting a whopping 350+ sessions and a 2-day expo where you can peruse vendors that will help your gym succeed. With so much happening in a short period of time, I wanted to offer some tips for getting the most out of Idea World 2019.
Pick Your Sessions Ahead of Time
With so many options available, you won't be able to squeeze in everything. Once you are registered to attend you can preview the sessions available to carefully decide which ones will help you meet your business goals.
There are sessions ranging from personal training techniques and nutrition education to business development and more.
What to Bring
You may have 10-15 gaps of downtime between sessions. It isn't much, so make the most of it by keeping snacks and a water bottle with you to avoid the lines. Bring jerky, trail mix, fruits, veggies or anything else you love to eat to keep your energy up.
Reflect!
With so much information being thrown at you, retaining all of it will be a challenge. It can be beneficial to take 5 minutes after a session or lecture to reflect on highlights. It's also helpful to try to think of how you can take those insights and implement them at your gym.
What it's really all about
Idea World is an incredibly fun and exciting experience. It is a place full of other people who share the same passions for wellness, health and fitness. It's an event that will inspire and motivate.
Not only do you have the opportunity to come face to face with some of the leading innovators in the field, you can also earn CEUs for attending certain sessions.
It is an experience I believe can be pivotal to any wellness professional who wants to expand their profession, skills, experience and overall knowledge.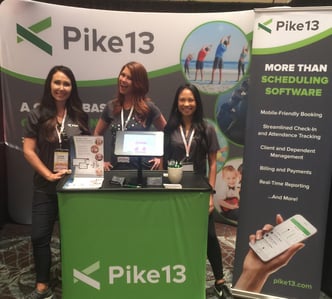 Pike13 will be an exhibitor at Idea World. You can find us at booth 927 where we will be showcasing how Pike13 software can streamline administration for any gym owner and save hours on administration. Not to mention the free swag! So stop on by and say hi!