Our mission is to provide you with an efficient and powerful software that saves time spent on administration so you can get back to what you do best: instructing other humans and improving their wellbeing! Our Account Managers are asked a variety of questions on the ins and outs of using Pike13 software and we decided to compile some of those that we thought may be the most helpful.
The Gear Icon
Have you ever seen that little gear icon in your site? It can lead to many things, but basically, it gives you more options depending on where you see it. Are you seeing the gear icon on the Schedule? Use it to filter through services, staff members, or event capacity so you can narrow your views on an otherwise busy Schedule. Just click the 'x' at the top of the filter pop-up window to return to the Schedule and see the fruits of your filters.
Are you in a Class or Appointment Roster? Use the gear icon to mark a client as a No Show, to reset their attendance, to resolve an unpaid visit, or sign an unsigned waiver.
Are you in a Shopping Cart? The gear icon gives staff members, managers, and owners the ability to modify the pass or plan you are about to sell, including the price, the start date, the discount, and access the proration of the first invoice on a recurring plan! See more about this proration adjustment override!
Reordering Services, Passes, Plans & Staff Members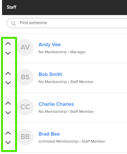 Have you ever needed to move classes or staff members around in your site? To the left of each pass, plan, class, appointment, and staff member there are up and down arrows to reorder any of these products, services, or people in your site. Moving these items on the staff side will reorder them on the client-facing site.
Service & Revenue Categories
Service and Revenue categories allow you to classify and compare different metrics, such as revenue, enrollments, and invoice items in the summary views of financial and client reports. Every Pike13 site has default revenue and service categories, but you can also create unique ones. You can use a service category to create navigation pages for specific services.
Staff Permissions
Staff members do not all have the same permissions, use the Permissions Guide to help make informed choices when creating or editing staff members. You will also notice a Staff Permissions section in the Settings drop-down menu, which has communication and payroll controls for staff members. Finally, within each staff profile, under the Advanced Actions section, you can further enhance staff capabilities by allowing basic and financial reporting access. Reporting access can be taken from staff by clicking Revoke Reporting Access.
Modify a Filters Search Function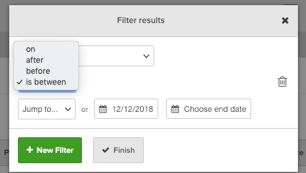 When you are using Analytics & Reporting, there are numerous filters to apply. Each of these filters has a drop-down menu that allows you to modify how the filter searches for data i.e, you can perform an exact search, search for a range of data, or search from a specific data point.
Columns in Reporting
Sometimes a report has too much information for the question you need to answer. Click the Columns tab to hide unnecessary columns. We recommend to start by selecting the None button in the top corner of the column pop-up window, so you can add the columns you wish to see rather than individually removing columns you do not wish to use. Select Finish at the bottom and be sure to save the report as a Favorite from the top of the report.
Activity Tab in a Service Roster
If you are looking for more details about client enrollments, you will notice the Activity tab within an appointment or class roster. This handy tab will help you know what happened and when it happened.
Your Billing Info
Need to see your past bills from Pike13? Need to update your credit card to pay for your invoice? Navigate to Settings > Billing Info to look back or keep things current.
There are also a wide range of reporting options available. Because of the robust reporting platform we wanted to breakdown some of the reports that our customers find helpful. Download our Using Reporting & Analytics in Pike13 eBook to find out more.