If you own a gym (or are thinking of starting one) you've most likely considered the question of whether or not to sell branded merchandise. It's a tricky question. Retail bolsters your brand, builds community, and can be a consistent source of revenue if your clients are interested in the products. But it can also be a revenue black hole if you aren't moving inventory.
There are a few things to consider when deciding whether or not you should be selling retail at your gym:
Should your gym sell merchandise?
You may want to start selling retail the moment you open your gym, but when to start selling it may depend on how established you are as a business. Clients will buy branded merchandise when they feel connected to your business, and it's tough to establish a coherent community on Day 1. So unless you are offering your retail at special grand-opening prices, you may be better off waiting a few months before you place your retail orders. Once your community is established, you can use branded merchandise to strengthen it even more.
Are clients willing to spend the money?
If you are wavering at all on the question of whether or not to sell retail, why not ask your clients if they'd be interested? You don't even need feedback from everyone; you should be able to judge the level of enthusiasm from a small sample of clients. To gauge interest, try emailing your clients a survey (not all will answer, and that's ok), or just talk to your clients when they're in for their classes. Not only will you get a sense of whether merchandise would sell, but you'll have a better idea of the types of merchandise your clients would buy.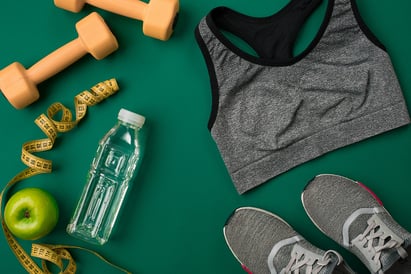 Are you stocking the right stuff?
Apart from talking with your clients, the best way to determine what type of retail will sell is to take a good look at what your clients are already using and wearing. Once you figure out what your clients already like, add your brand to it. Does 90% of your clientele work out in tank tops? Stock 'em. Clients are happy to wear branded gear from companies they like, and your gym is no exception. Owning and wearing your brand also serves as a reminder to your clients to keep coming back for classes.
Are there ways to expand inventory?
Clothing is an obvious first thought for branded retail, but don't forget about accessories too. Yoga studios might sell branded yoga mats; a music school might sell branded guitar picks. You can expand even further to offer items like bottled water or nutrition bars. These (probably) won't be branded to your business, but they are low-cost items related to your industry that clients will likely buy out of convenience. It's a great way to make some additional passive income without exerting a ton of effort.
Do you have a plan to offer discounts and promotions?
Discounts and promotions may not be requirements for selling retail, but they are effective ways to move inventory at the end or beginning of a season, as well as generate interest among your clients. There are different strategies for effectively running retail sales and service promotions.