Having a loyalty program has become almost an expectation to many consumers. For this reason, it is important to choose a loyalty program that offers perks beyond the obvious purchase activity. Many businesses are using loyalty programs because they offer:

Increased customer satisfaction
Increased customer retention
Increased awareness leading to growth
Increased Customer Satisfaction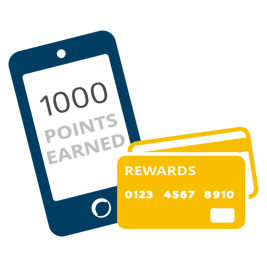 Everyone loves savings and it gives you that warm feeling inside when you know that you are getting a reward. Customer satisfaction is the backbone of a successful business. Since loyalty programs have become an expectation of the consumer, it is a no brainer that businesses should be incorporating one with their CRM or Point of Sale system.
A loyalty program is a great way to make consumers feel appreciated. A comprehensive, personalized loyalty program will make your customers feel like they have an emotional connection with your brand and will increase customer patience in case of mishaps. You can increase appreciation by incorporating rewards for special occasions such as a customer's birthday.
Increased Customer Retention
Happy customers leads to return customers. It's as simple as that. And when rewards are issued for purchase of larger packages, this also increases likelihood that you will be gaining a loyal customer that will return again and again.
Increasing customer retention helps boost profits simply because loyal customers already have trust in your brand and therefore are likely to spend more. Increasing retention by just 5% through loyalty programs can boost revenue by 25 to 95%.
While creating and implementing a loyalty program is an investment, customer retention strategies are often less expensive than attracting new customers. Acquiring new customers can be 25% more expensive than retaining current customers.
Increased Awareness Leading to Growth
In order to create the maximum impact from a loyalty program, it is important to think of all of the ways rewards points can be earned by the customer. Many businesses are creating rewards for sharing their check-in at a class, or their posting about their recent experience. Incorporating social and behavioral actions is a great way to increase awareness. Those that view, like, and share the post are increasing your business exposure and ultimately heightened growth.
Having a loyalty program and advertising it properly you can also attract new customers. By offering rewards for subscription to your blog, you will automatically be able to add new customers to your mailing list simply because customers want to take advantage of discounts. Meanwhile, if a customer sees a good loyalty program where rewards are within reach, they are more likely to try your brand simply because the rewards are easily accessible.
By creating a comprehensive loyalty program that allows for modern marketing techniques, you can turn your customers into advocates for your brand. Since modern consumers trust peers over advertising, fostering loyal customers who will then speak out on your behalf is simply a smart business move.
Perkville integrates with Pike13 to offer our customers royal rewards program that is user-friendly and will pull all membership data within Pike13.