5 min read
Keeping Up Morale When The Team Is Virtual: 7 Tested Ideas From Pike13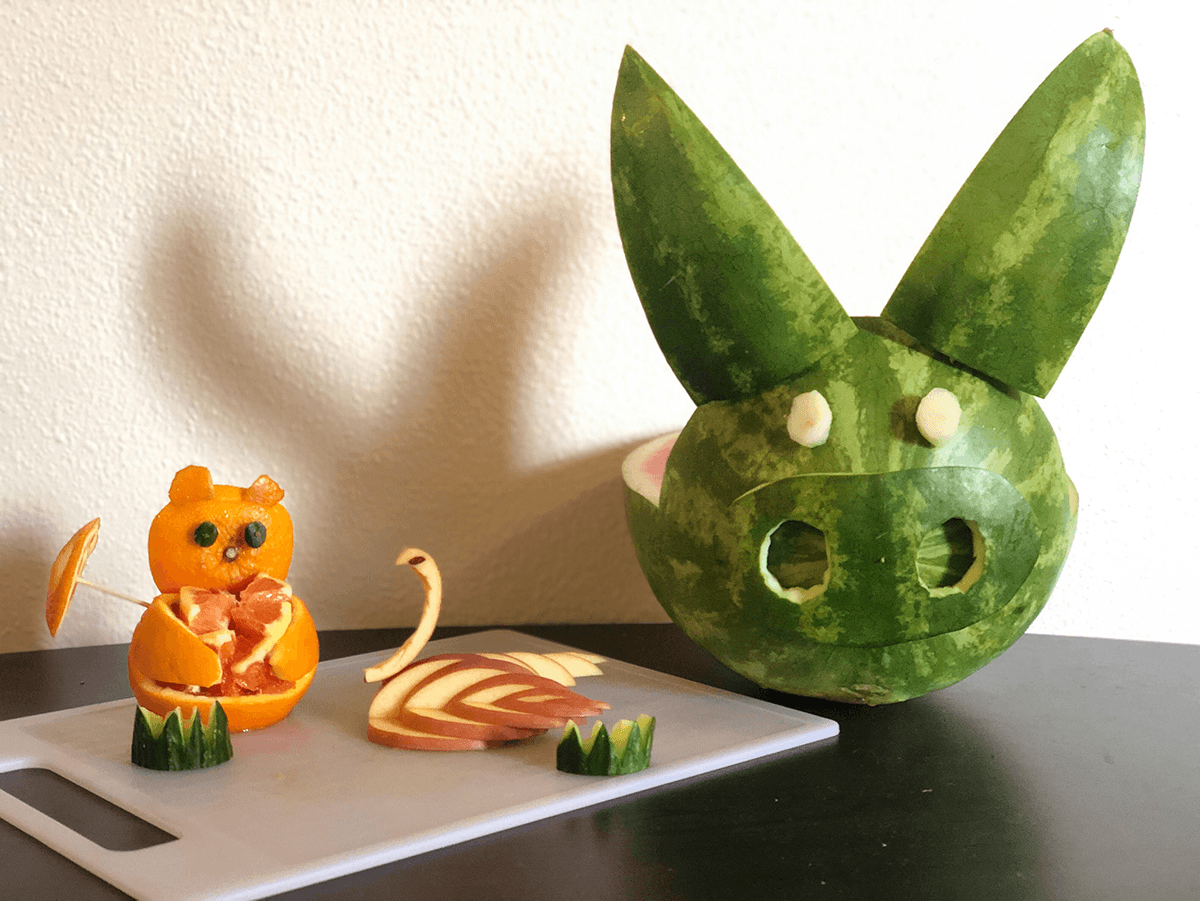 When we think of team bonding events at Pike13, we generally picture actually being together with our coworkers. It certainly makes kickball games easier. So when COVID hit last year and we all transitioned to working remotely, we had to get even more creative with our social events.
Luckily we have a team that was up to the challenge. We've tested out a lot of virtual events and games in the past year, and now we want to share our experiences with you. We hope we can provide some inspiration for your next virtual team event.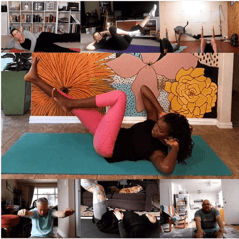 1. Virtual Fitness
Fitness Fridays, where one of us leads a lunchtime workout once a month, are a staple at Pike13, and we didn't give it up when we went remote. Now we meet up for virtual workouts instead, and track our progress through an app.
The most fun we've had was when some of our customers offered to lead virtual classes for us. We were taken through a couple of pilates workouts that left us sore for days.

2. The #Pike13Eats Weekly Cooking Challenge
This competition started with the random idea to each make a pizza and then vote on whose looked the best (since we obviously couldn't get together to taste them). We thought that was pretty fun, so we decided to do it again the next week but using rice as the base ingredient for the dish. 46 weeks later, #Pike13Eats is the social highlight of the week.
Here's how we do it:
Submissions are collected by a volunteer then posted anonymously in Slack.
We vote for which ones we like best, based on presentation, creativity, how much we want to eat it, etc.
Each person reveals which dish is theirs, shares more photos, and explains how they made it.
We vote again, this time based on technique, effort, did they try something new, etc.
Most combined votes wins, and the winner gets to pick the theme for the next week.

Over the past year we've explored new cuisines, tried new ingredients, and tested our creativity. And it's been so much fun that we're planning to keep it up even after we return to the office. It'll be a whole new game once tasting is introduced. You can see more of our dishes on our Instagram.


3. Online Games, Movies and Shows
There's no shortage of online games these days. You just have to figure out which style is best for your team. Our favorites have been Jackbox games and Among Us. We've also met up virtually for Netflix parties, and a few people even have a weekly Zoom hangout for watching the Bachelor together (they've declined to be named here).


4. HOLIDAY Events
We still plan social events at least once a month. Here are a few example from the past year:
We encouraged BYOP (bring your own pretzels) for Oktoberfest.
St. Patrick's Day was filled with Leprechaun Mad Libs and green Pike13 gear.
We donned our biggest hats and learned to make traditional cocktails for the Kentucky Derby.
And no one will forget our Lunar New Year celebration with our paper cutting crafts and stories of Nian.

5. Topic of The Day
Since going remote, our primary form of communication with each other is instant messaging through Slack. We've had some fun by periodically posting prompts to get conversation going, like riddles and AMA-style questions. Some of our best prompts have been to post photos of our past selves. It's been a fun way to learn more about each other over the past year.


6. Virtual Contests
We definitely host some silly contests at Pike13, and we haven't let lockdown stop us. At Halloween we had a fierce pumpkin carving contest, with everyone competing for candy bars (they were king sized!). We broke out the carving knives again in July for a fruit carving contest.

We also do Zoom virtual background contests, drawing contests ("draw the office from memory"), emoji games ("guess the movie from the emoji string"), and other random games like "guess how many skittles are in this jar." Sometimes there are prizes, but more often than not it's about bragging rights.


7. Employee Spotlights
One easy way to keep team morale up is simply to let people know you see and appreciate them! We give shoutouts for birthdays and work anniversaries, have special get-to-know-you games for new employees, and celebrate each other's professional and personal successes. For our semi-formal (formal on top, pjs on the bottom) virtual holiday party, we sent special deliveries with treats for each employee.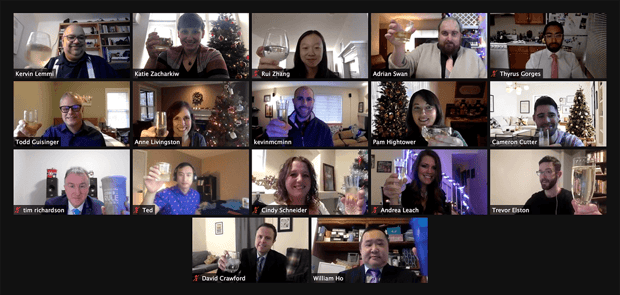 We play a lot of games at Pike13. We think it's a great way to get to know each other and bond as a team, and ultimately that leads us to create a better product for our customers. Our new employees are eventually asked what surprised them most when they started at the company, and nearly all mention the social aspect as something they weren't expecting but have come to really value.
It helps a lot that we're a small company, so we're able to really customize our games. Our events are planned by a volunteer Comms Team, which has representatives from each department. That way, we're aware of what projects everyone is working on and we can plan around them.
Here are the two key things we think about when planning events or games in order to get the most participation:
The different ways that someone can be involved. We have a good mix of introverts and extroverts, so we design games that have both passive and active roles. That way everyone can participate in a way they're comfortable with.

The timing of the event. This is critical for both participation and enjoyment. Our primary focus is our work, and we don't want our social events to get in the way of that. To that end, we plan most of our games to take 20 minutes or less. Some we'll schedule during the lunch hour, but most are tacked on to the end of our weekly staff meetings. That way, people already have that time blocked off on their calendar, and they can choose whether to participate or not.
The last key to success is making everything voluntary. No one should feel like they're being pulled away from their work or being pressured into something they aren't comfortable with. At Pike13, employees will pop in and out of our weekly and monthly challenges depending on how busy they are. But we do our best to always have a social channel open within the company, because now more than ever we need each other to keep our morale up.