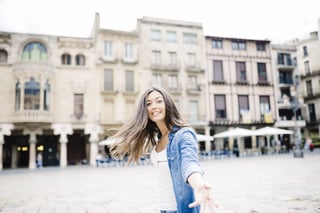 Why do you shop where you shop? Take a second to think about it. What usually motivates you to click a link, or walk through a front door, and then follow through with a purchase?
For many, it's because a business or product was recommended by someone they know and trust. If your friend says they had a great experience, it's natural to think you will too. Get ahead of the word-of-mouth marketing game by motivating your current customers to introduce their friends to your business with a referral program.
Referral programs are marketing campaigns designed to benefit the customer if they bring new leads to the business – so everyone wins. When developing a program of your own, consider the following tips:
Keep it simple
In order for customers to take the referral program bait, they have to have a compelling reason to do so. Put yourself in your potential customer's shoes to determine what it will take to reach and win them over. By simplifying the call-to-action and offering something the customer actually wants, they're more likely to do it.
Fast and easy ideas:
Share via email: As a customer signs up for an account or is about to make a purchase, prompt them to provide at least five friend email addresses in exchange for a percentage off their shopping cart.


Offer money: The savings app Digit provides a code to all users to share with friends via social media, email and text. Every time a friend uses the code to sign up, the original customer gets $5 added to their bank account.
Spread the word
Promote your referral program offline and online to reach more people through a variety of communication channels. For example, an apartment complex might offer residents a free month of rent in exchange for each new tenant they refer that moves into the building. To make residents aware of this promotion, hang posters in building elevators and the leasing office, distribute flyers underneath each resident's door, send reminders via email (personal or mass email) and post about it on the property's social media channels.
Make it easy to find on your website
The last thing you want is to have a great referral program… that no one has ever heard of. Dedicate prime real estate space on your website to advertise the deal with direct calls-to-action. Showcase messages such as "$10 off if you refer a friend!" with prominent placement 'above the fold' on your homepage. This way, users can immediately see it without scrolling.
Fish where the fish are
If someone is already your customer, chances are they already like you (otherwise, what are they doing paying you for something they don't like or want?). Capitalize on this by advertising additional products or services to your current customers.
One way to do this is to include referral coupons/deals with a customer's latest purchase. For example, Blue Apron, a recipe/food delivery service, also has a separate wine club that members can join to have wine pairings included with their weekly box of food. In addition to advertising the program on their website when customers are logged in, Blue Apron frequently sends customers a $20 coupon towards the purchase of the wine pairings for future Blue Apron deliveries. This coupon sits on top of the current food delivery, so it's the first thing a customer sees when they eagerly open the box.
Chances are, the current customer has considered adding this additional service to their delivery before, but hasn't pulled the trigger yet due to financial constraints. By lightening the initial financial burden, a customer is more likely to try the service. Once they've tried it, they're likely to become hooked, and will continue to seek the service and pay full price down the line.
With countless purchasing options available to consumers, and strong competition among business owners, it's imperative that you differentiate yourself in the marketplace. Referral programs are a foolproof way to do so, and to engage and expand your current base. As you brainstorm your next referral program, you may want to check out this list for a little inspiration.