You've been offering classes at your facility but aren't seeing the results you anticipated. One great way is to boost fitness class attendance using data. Here are some tips to help get you started:


Optimize Class Days and Times
Until you've been offering classes for a while, it's hard to know when your clients are looking for them. Are they a weekend crowd? After work? Early morning? Use your booking and attendance data to determine which days and times are most popular, and cluster your classes around those times as much as possible to reach maximum attendance.
Create a New (Successful) Class
Looking to shake things up by offering a new class? Data can help you figure out what that class should be. Survey your clients to find out what they are interested in and what they would like to see more of. Then build your class around that intel. That way, you know that you already have an interested group of clients when the class is ready to go.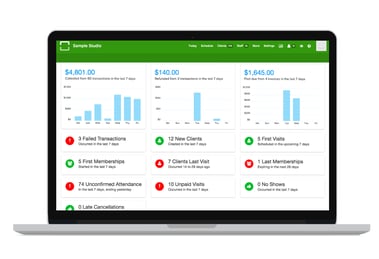 Personalize Your Marketing
By collecting data on which clients attend which classes, you'll have a good idea of new classes those clients might be interested in. Maybe Client A prefers high-intensity cardio workouts, while Client B trends towards the yoga and pilates classes. Segment them into separate contact lists so you can easily market the classes to them that fit their preferences.
Build Your Best Staff
When you are paying close attention to which classes are well attended and which aren't, you may start to notice unfortunate patterns about your staff. While one instructor may sell out their classes every time, another may struggle to reach capacity. Don't immediately assume the instructor is the problem–check first whether the issue might be the day, time, or content of the class–but it's possible that your staff member is having a negative effect on attendance. If that's the case, you can work with that staff member to resolve issues and improve attendance rates.
Compete in the Market
Your marketing strategy isn't the only important thing for getting clients through the door. It also depends on the strategies of your competitors. Are your classes too similar to stand out? What is your class pricing compared to the business down the street? Clients are going to compare businesses before choosing one to commit to, so you'll want to collect data on your competitors and use that knowledge to help your own business stand out.
Data is a powerful business tool that, when used effectively, can help you bring in new clients and increase revenue. How else do you like to use data to drive your business decisions?