Every retail purchase helps bring in revenue for your business, but the holy grail of purchasing is the membership. Even if it's not the most expensive retail item you offer, a client purchasing a membership signals loyalty to your business and much greater long-term value.
Here are 5 tips to increase gym membership sales:
1. Be Patient
The majority of your clients are not going to purchase a membership the very first time they engage with your business. They may need to try out a few classes and get a better feel for the culture that you offer. During these first few visits, make sure to make the client feel welcome at your facility. They are most likely to purchase a long-term membership when they feel like they're joining a community as much as they're joining a gym.
2. Be Personal
Helping a client settle into your community is all about personalization. Take the time to learn about your client's fitness goals and where they stand now. Help them come up with a plan to reach those goals, suggesting trainers and classes that you offer that could help them. The goal is to make your client feel supported and motivated–two feelings that will lead them to a long-term commitment at your gym.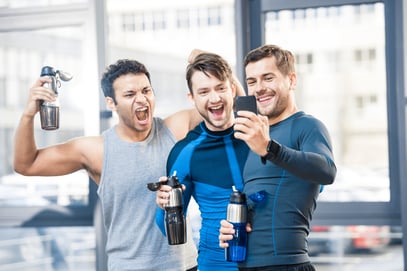 3. Introduce New Clients to Existing Ones
Of course you don't want to interrupt anyone's workout, but having a new client talk to a happy existing one is a more powerful sales pitch than anything you and your staff could come up with. A happy testimonial from a long-term client may be all a new client needs to decide your gym is the right one for them.
4. Offer an Exit
Often the biggest barrier to purchasing a membership is the threat of buyer's remorse. Because memberships generally require paying more money up front, clients want to be sure of exactly what they're getting. You can remove this barrier by offering a 30-day money back guarantee. That way, if the membership isn't what the client expected they have a way to back out of it. Hopefully though, they see how awesome a membership at your gym is and choose to stick around.
5. Follow-Up
Marketing to your clients never stops, and retention marketing is just as important as prospect marketing. Make sure your members feel supported, appreciated, and listened to. Continue to check in with them regarding their goals, celebrate the ones they've achieved, and help them set new ones. Your clients want to keep moving forward, and your gym should be there every step of the way.
These 5 steps are great way to boost gym memberships and retain happy and loyal clients.