7 min read
13 Pike-tested office activities to raise staff morale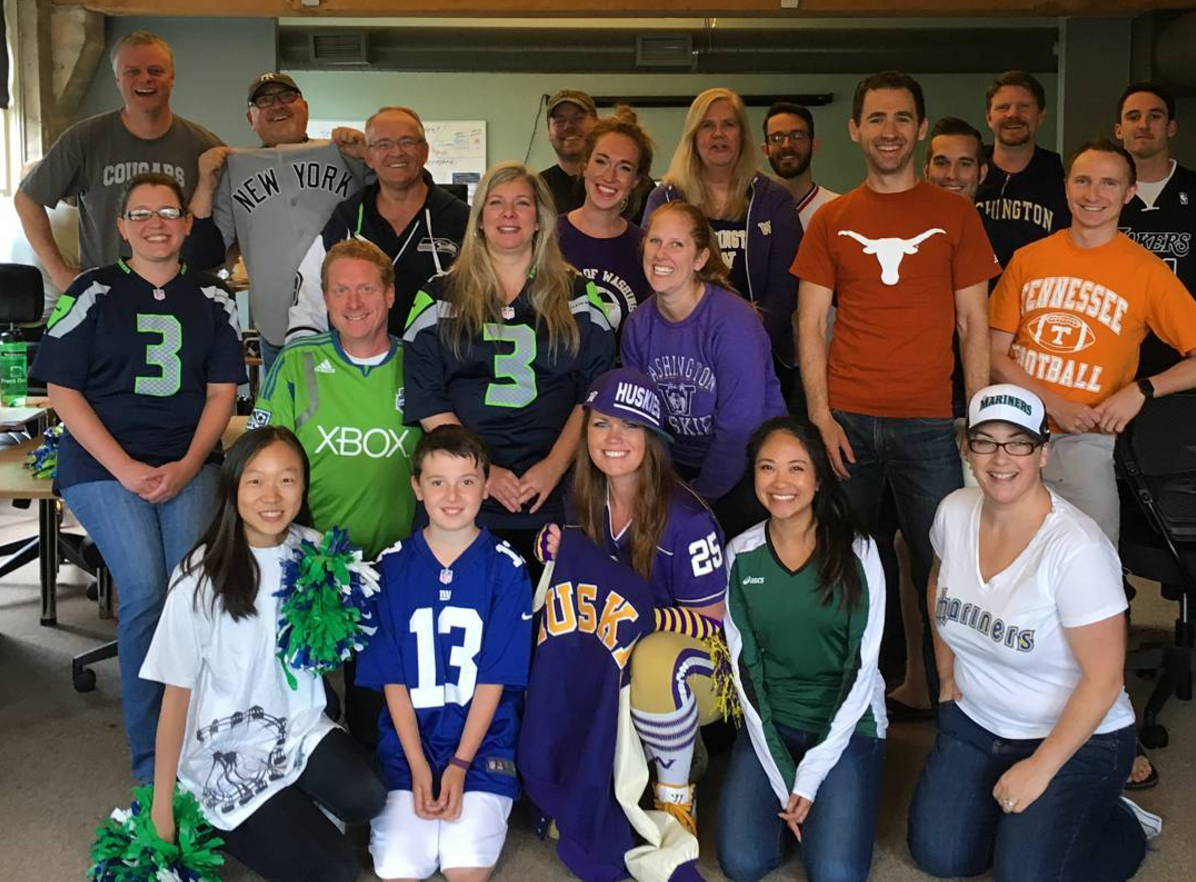 As we talked about in a recent blog post, there are many factors that contribute to staff retention rates. One of those factors is staff happiness. At Pike13, we keep up morale by putting aside work for an hour or so and coming together to have a bit of fun.
It may seem counterintuitive to disrupt work to increase productivity, but it's well documented that staff who are happy at their jobs stay longer, work harder, and perform better.
There are lots of ways to promote fun at the office without disrupting the workday too much. Here's how we do it at Pike13.

1. Get moving with fitness fridays
You know us as software nerds, but we're also CrossFitters, yogis, dance instructors, sports coaches and more. Once a month a Pike13 employee–or, once in a while, one of our customers–leads a voluntary group through an hour-long exercise for a discipline that they specialize in. We've done strength exercises, learned swing and cardio dance, trained in self-defense, and even took a walking tour of our own Capitol Hill neighborhood.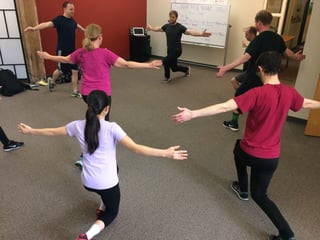 2. Get to know your co-workers with an AMA
What started six months ago as a one-off AMA with our CEO has turned into a highly-anticipated monthly event. Each month, one lucky staff member gets their turn in the Ask-Me-Anything hot seat. It's our chance to learn things about each other that don't come up in our regular work conversations. We've uncovered funny childhood stories, bucket list items, unexpected hobbies and more. We keep it light–nothing too personal–and even the person getting grilled ends up having a good time.
3. Test your company knowledge with brand Jeopardy
"Pike13 Jeopardy" was the first game I ever played at Pike13–on my first day, in fact– and it's still one of my favorite memories here. It's a fun way to test and improve company knowledge and get everyone excited with a little friendly competition. Plus we didn't have actual buzzers, so each team made a different animal noise to buzz in. There was no lack of enthusiasm.
4. Go green with terrarium building
In April we tried a more hands-on activity for Earth Day. We embraced the spirit of the day and made terrariums to use as office decorations. Learning how to build them was half the fun, and now each one of us has a terrarium on our desk. Pro tip: get a vase that's big enough to hold your soil, the plant, and which you can get your hand inside of to arrange the terrarium.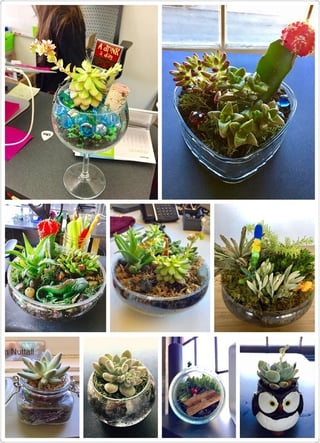 5. Celebrate your company's hard work with Nacho Average Wednesday
We recently shared an elaborate in-office nacho lunch to celebrate a company milestone. The day was dubbed "Nacho Average Wednesday" and since then we've occasionally used our lunch hour to come together as a team and celebrate our successes. It's our chance to talk to the people we don't usually interact with and gives us perspective on the work we all do.
6. Start the day right with a pancake breakfast cooked by your boss
I can say with certainty that nothing raises morale more than your boss serving you pancakes while wearing a frilly apron. Last fall we started off one Friday with an executive-cooked breakfast. With four skillets going, they cooked up continental breakfasts for the rest of us. The morning still stands out to me as one of my favorites. And our office smelled amazing all day.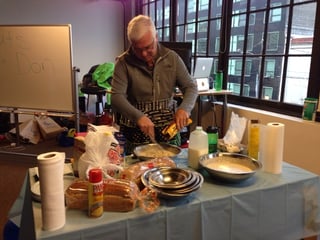 7. Enthusiastically celebrate holidays
We take holidays–all holidays– very seriously at Pike13. Any excuse to celebrate together is a good one, but holidays lend themselves particularly well to games, costumes and contests. In addition to being a lot of fun, these days also produce great photos for social media. And most of these activities can be done in about an hour, so they aren't a huge disruption to the workday. Here are a few of the activities we've tried with great success:
Oktoberfest:

German-style potluck + a stein decorating contest. Costumes encouraged.

Halloween:

Costume contest (that's a no-brainer!). Or, wrap your coworkers up in toilet paper to turn them into mummies–fastest team wins.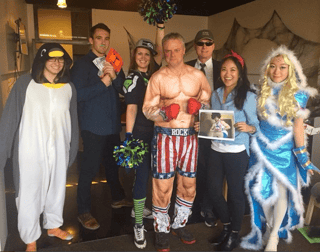 Thanksgiving:

Family-style potluck lunch. It doesn't even have to be Thanksgiving food, it just matters that you're all together.

Christmas: Ugly sweater contest, plus a voluntary white elephant exchange.

8. Stir up some friendly rivalry with Family Feud
This is the most recent game we tried, and it was an instant hit. Ten volunteers made up two teams, and everyone else filled out the pre-game survey. Game day was tense with rivalry–team colors were worn, sides were picked, jobs may have been threatened. And after one hour with 6 rounds of questions plus a lightning round, we had all argued so much about the integrity of the answers that we still don't know who won. I don't think we've ever had so much fun.
9. Encourage creativity with Spirit Week
Who says spirit week is just for students? We know from experience that a full week of dressing up is good for morale. Afterall, who doesn't like wearing pajamas to work? Here's what we did for our most recent Spirit Week:
Crazy Hair/Hat Day: Self-explanatory. Get crazy!
School/Team Spirit Day: Wear your college or favorite sports team's gear/colors.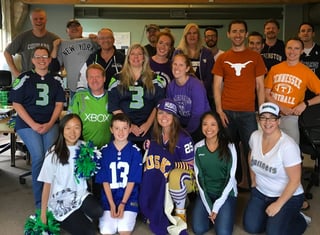 Decade Dress-Up:

Get decked out like you're in your favorite decade! Even better, dress as a celebrity from that decade.

Company Pride Day: Wear your color or outfit that best represents your company.
Pajama Day:

Just keep it PG ;)

10. Build team cohesion with all-hands projects
A few months ago we were getting ready to release an update to our branded client app. One of the last things to happen in the process is the debugging, where users test the product to identify anything not working quite right. Our developers can do the testing themselves, but this time we turned it into an all-company bug bash. There were snacks, drinks and healthy competition over who could find the most bugs. We had an absolute blast and in the end we produced a better product.

11. Give back to your community with charity events
A few times a year, our office participates in a (voluntary!) charity drive. We collected food around Thanksgiving, toys around Christmas, and most recently contributed to making Mother's Day baskets for YWCA of Seattle. Being involved with our community is important to us, and it feels good to give back. We're getting even more involved this year by setting up a Pike13 Scholarship and Mentor Program. Stay tuned for more details!

12. Escape the office on a beautiful day
We work hard at Pike13, but every once in awhile, we let a sunny day win and we'll all sneak out an hour early on a Friday afternoon. Socializing outside of the office gives us the chance to get to know each other without the pressure of work. These events are always voluntary, but most people attend and we've gotten some great stories out of it. On one memorable afternoon last summer, we went to play bocce ball and ended up in the background of an episode of Real World: Seattle. You never know what's going to happen.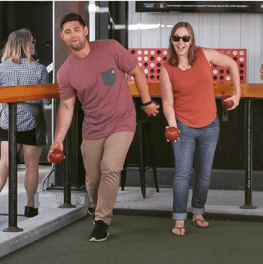 13. Celebrate employee successes and milestones
There's a good chance you already do this, but it's still worth mentioning! In the early days of Pike13, the CEO would send bacon to the house of an employee he felt had gone above and beyond. In that spirit, we use the Bacon Award to recognize a Pike13 employee who has shown exceptional work.
Pike13 also recognizes each work anniversary with a small gift and a big shoutout. We've even taken to passing around the Green Jacket–a retro company-branded jacket–to whomever's special day it is.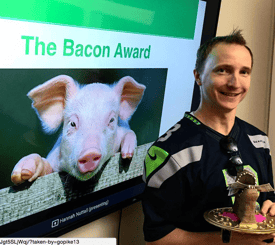 A company culture that celebrates staff and encourages team bonding will keep everyone feeling happy, appreciated, and motivated. The ideas for morale-boosting activities are endless–all you need to do is get creative!
What do you do at your business to promote staff happiness? Let us know in the comments! We're always looking for new ideas.