Pike13 software was built around fitness business best practices and is continually evolving along with the industry. To understand how the industry and business needs are changing, we rely on our own experience as gym owners and on what other gym owners are saying.

In 2016, Pike13 conducted comprehensive market research to better understand the fitness industry, its business owners, and their business metrics.
[Download the 2016 American Gym Infographic]
What did the research find?
We surveyed over 5,000 gym owners, from personal trainers, to multi-location gym franchises. Here are some of our main findings:
Gym owners are optimistic. 80% are preparing for client and revenue growth over the next two years.
New technology, new rules. 75% of gym owners see technology as key to growing their business, even more important than adding new classes and staff. This affects how gym owners invest in their business.
Client experience is key. 71% of gym owners want to use technology to improve client experience.
Our research confirmed that gym owners care just as much about the health of their business as they do about the health of their clients. They are relying on technology to understand how their business is doing, improve their client's experience, and determine what actions to take next.
[Download the 2016 American Gym Infographic to see more statistics]
What does this mean?
For you, that means using technology to understand how your business is doing right now may be what separates you from your competitors and sets you up up for growth. Software can easily track scheduling, attendance, billing and more, freeing you up to focus on your clients.

For Pike13, that means we'll keep working harder than ever to deliver software that is easy to use, easy to teach, and built around industry best practices. Our goal is help you run and grow your business by removing the administrative obsticals that keep you from doing what you love.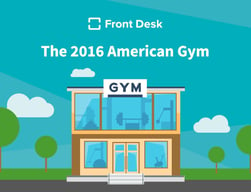 [Download the 2016 American Gym Infographic]