If you run a fitness studio you are likely already well-aware that nothing is ever perfect in the eyes of your clients. There will be complaints–some warranted and some not–no matter how hard you and your staff try to keep everyone happy. But there are steps you can take to mitigate the number of grievances. Follow these 5 tips to prevent client complaints at your gym.
1. Be proactive about communication
A fast way to create an unhappy client is to inform them that their payment method has been declined when they weren't expecting to hear that. You can prevent this by tracking payment methods with software and automatically sending reminders when expiration dates are approaching. This doesn't just apply to payment methods; use automatic communications to inform clients of membership expirations, schedule changes, and other important account information.
2. Keep your schedule balanced
This is an unfortunate scenario where there can be too much of a good thing–in this case, clients. Nothing kills the mood at the gym like overcrowding. Spread out your classes throughout the day so you don't have too many clients at once. If you offer open gym and your facility is crammed, make a note of your busiest hours and let clients know so they can adjust if they're able to.
3. Keep your staff happy
Happy staff plays a huge part in maintaining happy clients. Your staff contribute to your greater community and often set the tone for the gym. If staff are enthusiastic and motivated your clients will be too. And on the flip side of that, subdued and annoyed staff members will kill any good vibes you have. Invest in your staff to keep them happy, and they'll strive to keep clients happy too.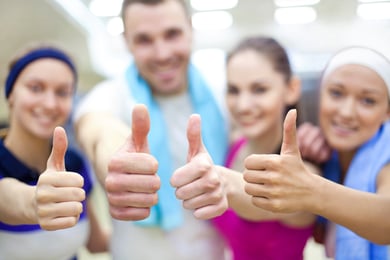 4. Keep your equipment modern and functional
If there is an issue with a piece of your equipment, your clients will be the first to know and the first to complain. Address any problems quickly so that your clients don't start to think of your business as 'the gym with the broken bikes.' Keeping equipment functional, clean, and up-to-date with the latest technology will make your business feel reliable and hip. This same logic applies to locker rooms, too.
5. Always have a way for clients to leave feedback
Clients love to complain, and most of the time they just want to feel like they've been heard. Make sure there is always a way for clients to leave feedback, anonymously or not, with a suggestion box at your front desk or a form on your website. Then don't just let the complaints sit there in the void–read them and act on them. Sometimes your client might see a problem within your business that you don't. One great way to do this is with email nurturing. Pike13 partners with BrandBot, so you can create automated emails that request feedback and even track your Net Promoter score.