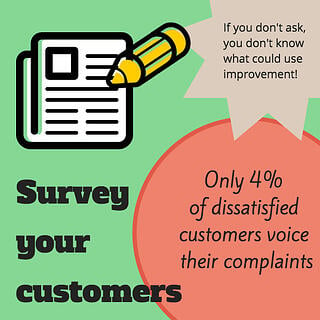 Getting feedback from your clients on a regular basis is a great way to learn what you can do to improve their experience in your business. And since a typical business hears from 4% of it's dissatisfied customers, hopefully you can understand what's working well and address any issues before they become larger problems.
Why should you collect regular client feedback?
Learn how you can improve their experience with your business
Earn the referrals of their friends, family and coworkers
Gain insight to better serve them and keep them happy
Reduce the risk of attrition
Avoid unhappy customers publicly complaining on social media or to their friends and family
If you don't have a plan in place yet for surveying your customers, it's never too late to start. We've got some step-by-step guidance below:
Step One: Decide what you want to ask
Keep client surveys short and sweet. Settle on a few questions that will give you insight into how happy your clients are and how you can continue to improve the services you provide.
Here are a few ideas to get you started:
How likely are you to refer someone to our business?
What can we do to improve your experience?
Are there other class or appointment times you'd like to see on the schedule?
Are there other services or classes you'd like us to offer?

Step Two: Pick a survey tool
There are several survey tools that offer free plans including SurveyMonkey, Wufoo and SurveyGizmo. You can also quickly put together a free Google Form and your client's survey responses will be logged in a Google Sheet for you to review.
Step Three: Send your survey out!
There's nothing better than taking action. You can use an email service like MailChimp or Emma to send a short email campaign to your clients that includes a link to your survey.
Bonus: The Follow Up
Customers appreciate when you ask for their input. But what really delights them? Following up on their survey responses. It can be easy to turn an angry customer to a happy one or a happy customer to a loyal one, just by responding to their survey.
We'll be publishing findings from our very own customer survey soon which we ran in March. Yes, we love hearing from our customers, too!